We recognize that all our patients are unique and deserve to receive orthodontic care that reflects their individual needs. Our experienced and talented team is committed to working with you and your family to create a comfortable, stress-free, and rewarding orthodontic experience every time you visit our practice.
We are pleased to welcome you and your family, and we look forward to working with you.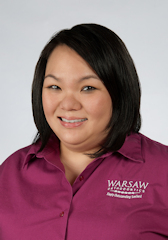 Joan
PRACTICE ADMINISTRATOR
I love interacting with all of the patients and families that come into the office. I love the fast-paced environment and how each day is not like the last. I love how our staff has a singular goal in ensuring that our patients and their families are welcome and enjoy their experience while here. I really enjoy our staff and love how well we all work together.
My husband Troy and I have two young children, Noah and Micah. They both keep us on our toes! I love spending time with my family and friends and making new memories. I love shopping, reading, and watching movies or listening to good music.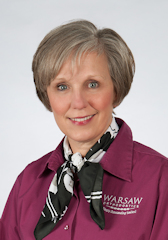 Doris
TREATMENT COORDINATOR
I really enjoy meeting the kids! I want to make them feel comfortable when they are visiting our office. I hope to make them smile and maybe "giggle" while they are here. I also enjoy Dr. Watson and the Staff - I love being part of a team. We are team "Warsaw Orthodontics!"
I have been married for 32 years to Kevin. I have 2 girls, Neenah and Natalie. They both live in Seattle. I recently moved to Warsaw a year ago. I attend Mission Point Church. I enjoy shopping, gardening, and finding cool coffee shops.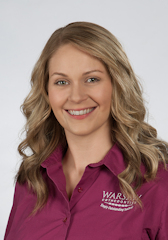 Niki
BUSINESS COORDINATOR
My favorite part of this job is interacting with different people on a daily basis. I love the fast-paced environment and learning something new everyday. I love the friendly environment our office has. I think we have a great group dynamic. They've always got me smiling!
I am originally from Decatur, IL. My spouse, Matt and I moved to Warsaw in July 2015. We love Warsaw and the people. I love being with family and friends, being out on the lake, and am a total foodie. I also love animals and have a rescue dog named Lincoln, who keeps me on my toes!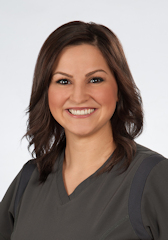 Jess
CLINICAL COORDINATOR
I love working with patients and getting to know their families. I have pride in the care that we provide and enjoy my team's ability to work together.
I am married with two kids, Lilly and Ryker, and a cat named Koda. We enjoy outdoor activities and spending time together as a family. I also enjoy arts and crafts.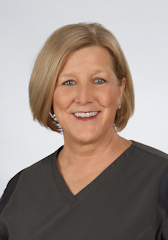 Mary
ORTHODONTIC CLINICIAN
I enjoy working face to face with our patients and doctors. Every day brings new joys and victories, and I love celebrating a patient's finished smile. The reactions when the braces come off are priceless! I work primarily in our clinic area, assisting with all aspects of patient care, from the start of treatment until the new smile is ready to be revealed.
I'm married with four adult children, and the proud grandmother of 10. I keep quite busy with my grandchildren, and enjoy swimming, riding four-wheelers, and baking with them.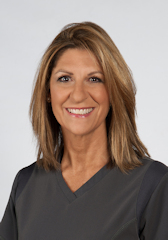 Gina
ORTHODONTIC CLINICIAN
It's a pleasure to come to the office each day. I know I'll be working with a great team that has the common goal of ensuring our patients have a wonderful time while we create their new smiles.
I'm married to my high school sweetheart, Carl, and we have two beautiful daughters, Jenna and Mikayla! We have been blessed with two amazing grandsons, Hayden and Branson! Soon we will have an additional bundle, our first granddaughter!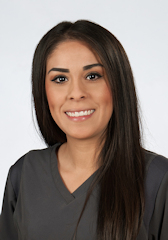 Ana
ORTHODONTIC CLINICIAN
I love talking and interacting with patients. I enjoy being on this journey with the patients, as they come in for appointments and as they get closer to getting their braces off and seeing the end result. It is incredibly rewarding to see their new smiles.
I have a young daughter that I absolutely love. I love playing with her. I like to play soccer. I love to shop, garden and go to the beach.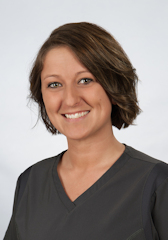 Kyra
ORTHODONTIC CLINICIAN
There isn't much I don't like about this job. Orthodontics is fun! I love getting to meet new people. We are constantly growing as an office. The environment is upbeat and happy. I enjoy building relationships with our patients, and seeing that they enjoy being there as well. Knowing that I am helping change someone's life for the better, warms my heart and puts a smile on my face!
I am from and currently still live in Peru, IN. My husband, Joshua and I have been together since 2014. We have three children Jaxson, Parker, and Kenleigh. I am a traveler, I love to experience different places. In my down time I enjoy making a mess with art supplies and painting! I am a major cat person, but there's only one cat my heart belongs to. His name is Theo and he's our family trouble maker.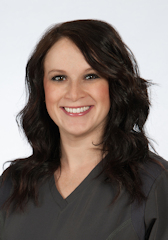 Amber
LAB TECHNICIAN
My favorite part of my job is that I help make beautiful smiles for amazing people. Seeing the excitement on a patient's face when the braces come off is wonderful, and I celebrate with our patients, as do the rest of our team members. I work in our on-site lab, creating orthodontic appliances that help to move and align teeth.
When I'm not at work, I'm likely enjoying time with my family.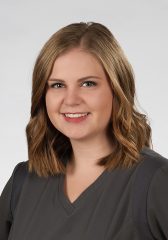 Emily
Lab Technician
As soon as I walked into the office, I knew that this was the perfect place for me because of the fun and friendly environment. I absolutely love working with patients and getting to know a little more about their hobbies each time I see them. I enjoy working on appliances in the lab to help our patients gain the outstanding smile that they deserve. I also enjoy every second with all of my coworkers and I couldn't ask for a better team!
I'm a very family oriented person so when I'm not at the office I love spending time with them. I also like playing video games with my friends and going to concerts.